Valentines Day isn't really something that my boyfriend and I celebrate - even though we've been together for over 5 years! I just think it's a bit commercialized, if I'm honest. However, we do still like to get each other random bits and pieces - usually food related, something funny or a bit cheesy. Here's a couple of ideas I've put together if you're wanting to get your loved one just a little something (be it a male or a female...)
As soon as I saw these postcards in Paperchase I knew I had to get them. Soz for the rudeness in the top one but it was just too funny to resist buying - although expect an awkward smile from the cashier when purchasing! At 60p you can't go wrong with these! I know they'll make my boyfriend laugh and will definitely put a little smile on my face every time I see them.
I actually bought this mug for myself because it was just too cute not to! I'm building up quite a collection of mugs lately and didn't really need another one but since this was only 99p from Home Bargains, I just had to buy it!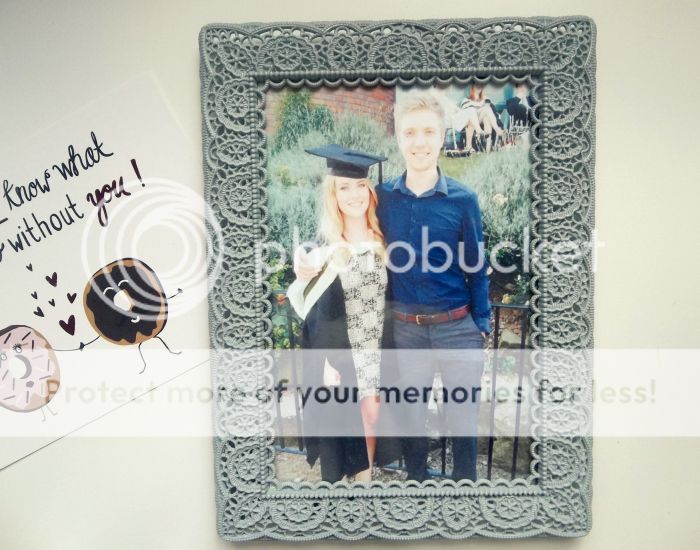 I always think that photo frames - with a photo in them that means something to the person you're giving it to - are such a thoughtful, yet inexpensive, gift. Perhaps it could be an old photo of when you first got together and you can have a good giggle at your choice of hair and outfit, back in the day, or it could be a snap of when you visited somewhere special. Mine is of my boyfriend and I at my graduation. The frame is from Boots.
How I haven't eaten this myself yet is beyond me! I was lucky enough to be able to make my own chocolate bar on YuCoco* - a website which specialises in personalised chocolate bars. You begin with a big slab of chocolate - I opted for plain old milk but there's also a choice of white or milk, white and dark all rolled into one. You can then add up to six toppings of your choice and, believe me, the choices are endless! There is literally a MILLION combinations of toppings you can add from classic ones such as chocolate drizzle and nuts to more adventurous choices like wasabi peas! They also have lots of valentines-y style toppings, at the moment, like the big "I love yu" chocolate piece I put on mine. You can name your bar whatever you like - me being original decided to call it the 'valentines' bar and you can also add your name and the recipients on the inside. It comes encased in a lovely presentation box, too. It costs between £6 and £10, including delivery, depending on what you want to add on it and mine only took 2 days to arrive! I think this makes such a great gift as it's just got a little more thought behind it than your average chocolate bar and it looks DELICIOUS.
You can make your own here.
What will you be treating your loved one (or yourself) to on Valentines Day?!
Follow me on bloglovin and never miss a post!